Help from Ancestor Seekers Consultants
Help is offered exclusively for our guests by Ancestor Seekers consultants at regular intervals. Our experts will help you find the records you need, thus providing a more productive and enjoyable experience. (This is in addition to the help available from the Library staff and volunteers).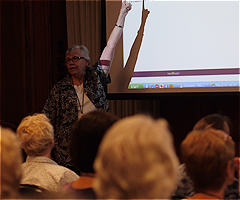 Our consultants will be available every day to offer specialized help as you search records from the United States, Canada, England, Scotland, Wales, Ireland and Germany.
There is a large collection of records available from many other parts of the world which the friendly and helpful library staff will be pleased to help you with.
The Hotel
Located next door to the Library, the Salt Lake City Plaza Hotel at Temple Square is the ideal location for those coming to Salt Lake City to do genealogy.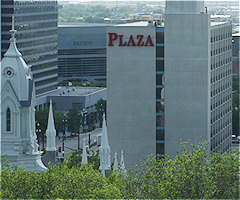 Six nights at the hotel (Monday night through Saturday night, checking out on Sunday morning) is included in the price and is arranged by Ancestor Seekers.
Additional Nights
Spend additional nights at the hotel before or after the event at our SPECIAL GROUP RATE. Details will be provided in our Welcome email sent to you after you have registered.
Your Room
Each room includes a refrigerator, microwave and free wireless hi-speed internet. A full service restaurant is attached to the hotel with room service available.
Registration Options
Attendance is by pre-registration only.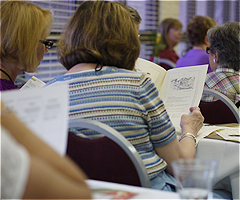 Single Registration
This provides you with your own room (not shared). So if you will be attending this event on your own (or are coming with someone else but require your own room) this is the option for you.
Double Registration
If you will be attending and sharing a room with a friend, spouse or other family member, choose this option. Both of you will be offered research help from Ancestor Seekers consultants.
Bring a Companion
This is a great option if you wish to attend and share a room with a friend, spouse or other family member who will not be conducting research at the Library but wish to spend their time in Salt Lake City doing other things. Your companion is welcome to attend the Opening Banquet with you.
Triple Registration
Register under this option if you will be attending and sharing a room with two friends or family members. Two Queen Size beds will be provided with the option of an additional rollaway bed if requested. All three will receive assistance from Ancestor Seekers consultants.
Without the Hotel
This is available only to those who:
Live in Utah or
Will be staying with family or friends in Utah or
Will be staying at a RV campground
It provides all of the benefits of the package except for hotel accommodations and shuttle.
---
Prices (includes 6 nights at the hotel)
Prices can change from event to event, below are the prices based on the events currently open for registration.
| | | | | | |
| --- | --- | --- | --- | --- | --- |
| | Single Registration | Double Registration | Bring a Companion | Triple Registration | Without Hotel |
---
What Do I Get For My Money
Included
Six nights accommodations at the Salt Lake Plaza Hotel at Temple Square (Monday night through Saturday night, checking out Sunday morning).
Help and advice from Ancestor Seekers consultants at regular intervals at the Family History Library from 9.00am to 12 noon and 2.00pm to 5.00pm Tuesday - Saturday. (We aim to provide one consultant for approximately every six guests). They will not be available on Thursday morning.
Evening Group Activities
Not Included
Air fare (or other travel costs)
Meals
All other personal expenses