September 2021 Salt Lake City Research Trip
Sold Out!
Sunday, 12 September 2021 to Friday, 17 September 2021
The Dream Genealogy Vacation
Enjoy the most popular genealogy research program in Salt Lake City
Spend a week at the Family History Library in Salt Lake City
Receive help provided exclusively for our guests by Ancestor Seekers consultants
Ideal for both first time and previous visitors with all skill levels catered for
Search records not available for viewing at home
Learn how to make your research more productive when you return home
THINGS TO CONSIDER BEFORE REGISTERING
We are delighted to offer once again a week's research at the Family History Library with help from professional genealogists. The Library will initially be opening between 9.00 am and 5.00 pm Mondays through Fridays. It is hoped and expected that there will be longer opening hours in September but we cannot guarantee this.
Whilst the Library considers that the situation with regard to the virus has improved sufficiently to allow the facility to reopen to the public, safety protocols are likely to remain in place.
Those who are particularly anxious about attending our September event may wish to delay attending until a future time. We are hoping to run a number of further trips in the coming twelve months
These notes reflect our understanding of current guidelines and policies but we recognize that they are subject to change.
CURRENT CDC GUIDELINES
The Center for Disease Control and Prevention (CDC) currently advise that those who are not fully vaccinated should delay travelling
The CDC also advises that those with symptoms of Covid-19, have recently tested positive for the virus, or have been exposed to a person with Covid-19, pose a very high risk to others and should not travel
We recommend that you review the latest domestic travel guidelines issued by the CDC at https://www.cdc.gov/coronavirus/2019-ncov/travelers/travel-during-covid19.html
FAMILY HISTORY LIBRARY
Although there is great optimism that the phased reopening of the Library will continue as planned, should the situation worsen again it may be necessary to put certain protocols in place. Guests will be asked to respect any prevailing safety precautions which may exist during the week of our event.
All facilities, workstations, restrooms and common areas are cleaned thoroughly daily
Face masks are recommended but not required
Social distancing is encouraged but not required. Many of the new workstations accommodate social distancing and, as Ancestor Seekers consultants will be sitting periodically with guests at their computers, we would encourage guests to use these new workstations where possible
Those who are not feeling well are strongly encouraged not to come into the Library
SALT LAKE PLAZA HOTEL
Face masks are not required
Social distancing is not required
There is currently no restaurant at the hotel.
The hotel currently does not operate a shuttle service. They are working on this and we hope that that this will be reinstated by September, but cannot guarantee it
Currently due to a shortage of housekeeping staff, rooms are cleaned prior to arrival but are only cleaned further on request, although room supplies are kept up to date. The situation is improving and will hopefully be resolved come September but, again, we cannot guarantee it.
We will meet for a few minutes each morning at the hotel, at which social distancing may not be in place. Although we recommend attendance, it is not required.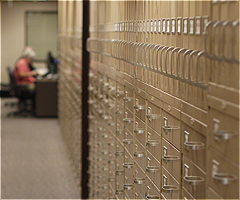 The Family History Library
You will spend a week at the Family History Library in Salt Lake City, the largest library of its kind in the world, offering a staggering collection of genealogical records from all over the world on five floors.
1.4 million rolls of microfilm
340,000 books
over 128,000 periodicals
Free access to several subscription websites available on over 550 computers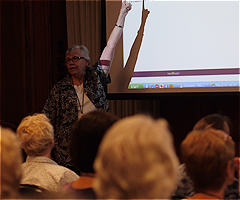 Help from Ancestor Seekers Consultants
Help is offered exclusively for our guests by Ancestor Seekers consultants at regular intervals. Our experts will help you find the records you need, thus providing a more productive and enjoyable experience. (This is in addition to the help available from the Library staff and volunteers).
Our consultants will be available every day to offer specialized help as you search records from the United States, Canada, England, Scotland, Wales, Ireland and Germany.
There is a large collection of records available from many other parts of the world which the friendly and helpful library staff will be pleased to help you with.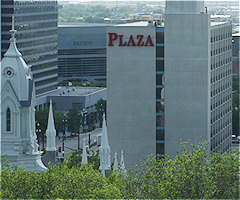 The Hotel
Located next door to the Library, the Salt Lake City Plaza Hotel at Temple Square is the ideal location for those coming to Salt Lake City to do genealogy.
Six nights at the hotel (checkin day night through final day night, checking out on checkout day morning) is included in the price and is arranged by Ancestor Seekers.
Additional Nights
Spend additional nights at the hotel before or after the event at our SPECIAL GROUP RATE. Details will be provided in our Welcome email sent to you after you have registered.
Your Room
Each room includes a refrigerator, microwave and free wireless hi-speed internet.
Payment and Cancellation
Payment Methods – we accept payment by PayPal, credit card or debit card
Cancellation
In the event of cancellation you may either:
(1) Request a refund of 90% of the registration fee
(2) Transfer to a future event that is currently open for registration
(3) Request to be placed on our Transfer List which will give you a full credit for attendance at any future event - we typically hold these events seven times a year
No-Shows or Early Departure
No shows will forfeit all fees paid. No refunds will be made in the event of early departure.
What Do I Get For My Money?
Included
Six nights accommodations at the Salt Lake Plaza Hotel at Temple Square (Monday night through Saturday night, checking out Sunday morning).
Help and advice from professional genealogists provided at regular intervals at the Family History Library from 9.00am to 12 noon and 2.00pm to 5.00pm Tuesday - Saturday. (Not available Thursday morning)
Optional Group Activities as described above
Not Included
Air fare (or other travel costs)
Meals (other than the opening dinner)
All other personal expenses

Registration Options
Attendance is by pre-registration only. We offer the following options: Single Registration, Double Registration, Bring a Companion, Triple Registration and Without the Hotel.