The Dream Genealogy Vacation
Enjoy the most popular genealogy research program in Salt Lake City
Spend a week at the Family History Library in Salt Lake City
Receive help provided exclusively for our guests by Ancestor Seekers consultants
Ideal for both first time and previous visitors with all skill levels catered for
Search records not available for viewing at home
Learn how to make your research more productive when you return home
This is an especially fun time to come to Salt Lake City. There is a magical atmosphere as Temple Square is adorned with hundreds of thousands of Christmas lights and, although the program has yet to be confirmed, we anticipate that free concerts and performances will be provided as in the past.
All this in addition, of course, to a week of research at the Family History Library with help from our outstanding team of research consultants.
Help from Ancestor Seekers Consultants
Help is offered exclusively for our guests by Ancestor Seekers consultants at regular intervals. Our experts will help you find the records you need, thus providing a more productive and enjoyable experience. (This is in addition to the help available from the Library staff and volunteers).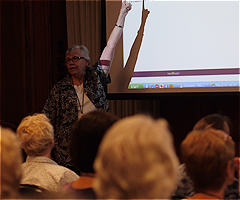 Our consultants will be available every day to offer specialized help as you search records from the United States, Canada, England, Scotland, Wales, Ireland and Germany.
There is a large collection of records available from many other parts of the world which the friendly and helpful library staff will be pleased to help you with.