The Dream Genealogy Vacation
Enjoy the most popular genealogy research program in Salt Lake City
Spend a week at the Family History Library in Salt Lake City
Receive help provided exclusively for our guests by Ancestor Seekers consultants
Ideal for both first time and previous visitors with all skill levels catered for
Search records not available for viewing at home
Learn how to make your research more productive when you return home
OUR 73rd EVENT!
ROOTSTECH * This event is being held the week after Rootstech, the world's largest genealogy conference, scheduled for 26-29 February. We know that many of our guests will take the opportunity to attend both events.
HOTEL Six nights at the Salt Lake Plaza Hotel (Monday night through Saturday night) is included in the price.
You may wish to spend additional nights at the hotel (to attend Rootstech or for other reasons) at our SPECIAL GROUP RATE. Details will be provided in our Welcome email after registration. Please note that additional nights are arranged between the guest and the hotel and are subject to availability.
* Ancestor Seekers has no connection with the organizers of Rootstech which is a completely separate event
Help from Ancestor Seekers Consultants
Help is offered exclusively for our guests by Ancestor Seekers consultants at regular intervals. Our experts will help you find the records you need, thus providing a more productive and enjoyable experience. (This is in addition to the help available from the Library staff and volunteers).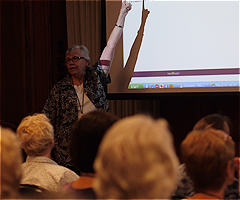 Our consultants will be available every day to offer specialized help as you search records from the United States, Canada, England, Scotland, Wales, Ireland and Germany.
There is a large collection of records available from many other parts of the world which the friendly and helpful library staff will be pleased to help you with.